Maui Weddings Hawaii Wedding Packages Hawaiian Island Weddings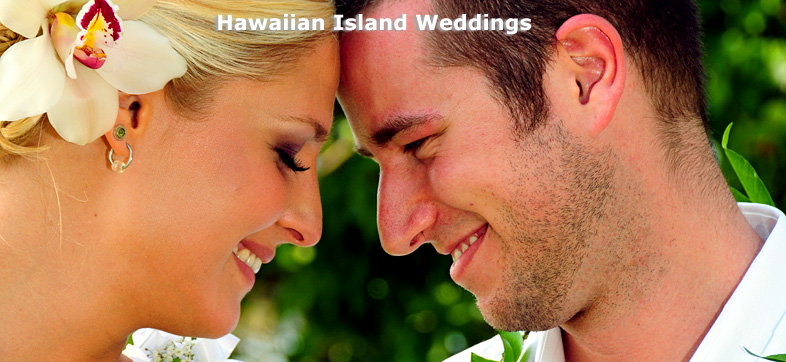 Check a Date, Request a call back, ask a question
or, Call 808 875-0350
Maui Weddings Oahu Weddings Kauai Weddings Hawaii Weddings
"The Ultimate Hawaiian Wedding Company"
Welcome to the enchanted islands of Hawaii. Swaying coconut trees, white sandy beaches, moonlit walks... Joyous wedding couples. Hawaiian Island Weddings has the most complete information on weddings here in Hawaii. With over 30 wedding packages on all four major islands, we know we have a package to suit your needs and budget. If you can wish it, we can make it come true on Maui, Oahu, Kauai or Hawaii.
Why choose a wedding in Maui? Weddings in Maui are now becoming the most popular way to tie the knot Hawaiian style. A wedding in Maui is romantic and affordable. We have a number of wedding packages to suit your needs; from our affordable beach weddings, on a beautiful secluded beach at sunset, to a complete destination wedding & honeymoon. Your wedding planner will help you choose a wedding package which will include your own on site wedding coordinator and perfect location for your ceremony. All wedding packages include the minister of your choice, your personal wedding planner, professional wedding photographer, and all of the amenities to make your dream wedding a reality. Don´t forget your wedding cake, wedding video, musician, flowers and other services; we even have a wedding store with all the specialty items to make your wedding even more memorable.
Why choose an Oahu Wedding? Oahu is often the choice for couples who have many guests and want the excitement of Waikiki on their Hawaii wedding honeymoon. Oahu weddings are fun and affordable and we have a number of Oahu wedding packages to choose from. You may want to be married in Waikiki, with Diamond Head in the background, or you may want a simple beach wedding on the famious North Shore of Oahu. We also have two wedding & honeymoon packages; from the historic Royal Hawaiian Resort in Waikiki, to the modern Turtle Bay Resort on the North Shore. Whichever you choose, your Oahu wedding will exceed your expectations. Each wedding in Oahu includes your choice of minister, Oahu wedding photographer, wedding planner, flowers, and plenty of aloha.
Hawaiian Wedding Packages - "The Ultimate Hawaiian Wedding"
Hawaiian Island Weddings brings you the most complete information on the ultimate Hawaii wedding packages. We have offered quality wedding coordination service since 1992. We have the largest variety of wedding and wedding & honeymoon packages in Maui, Oahu, Kauai and Hawaii, all at very affordable rates. Hawaii is truly the most enchanted setting for your wedding day. Paradise surrounds you as you exchange your vows amidst a tropical waterfall, on a secluded tropical Hawaiian beach at sunset, or in a historic Hawaiian church. The variety is as endless as the beauty of these islands.
Why Choose Hawaiian Island Weddings?
We have the local knowledge and work with only the top professionals in their field. We are a full-time wedding coordination company in Maui, we do not take your wedding lightly, and the success of your wedding is our number one priority. We will be there throughout the planning process to help you create the wedding of your dreams. Once you arrive, we are just a phone call away if you have any questions or problems, so you won´t have to worry about a thing and can spend your time enjoying your vacation. We are members of the Better Business Bureau Reliability Program, the Maui Chamber of Commerce, the Association of Wedding Professionals International, and the Maui Wedding Association, insuring that your dealings with us are held to a high code of standards. We have also partnered with Pleasant Holidays, Blue Hawaii Vacations, and Hawaii Fun Planner, to take care of all your travel and activity needs while you are here in Hawaii. All-inclusive air, room and car packages are easily booked directly from our Pleasant Holidays link on our
Affiliations Page
. Just enter your home airport and Hawaii wedding destination and this powerful travel search engine will configure the complete cost in minutes. They offer discounted rates for your all-inclusive Hawaii wedding vacation all in one place. Send your guests here and they can book their all-inclusive wedding vacation just in a few minutes.
What If I Have Some Questions?
If you have questions, feel free to email or call us to arrange your Hawaii wedding today. We are happy to answer all your questions and suggest special ways you can customize your wedding in Hawaii. Our helpful staff is waiting to help you arrange the wedding ceremony of your dreams. We look forward to talking with you soon.