Polynesian Hula Show - Maui
Your Private Polynesian Luau Show in Maui can take place on any day of the week. Includes over 20 hula entertainers.Have your private luau at your dinner reception on private property that we have arranged for your wedding. Your private Polynesian show will mesmerize your party about an hour. You will be amazed and totally entertained, we guarantee it!
Your Private Maui Luau features a cast of 20 present the Drums & Dances of Tahiti, the Ancient Hula of Old Hawaii, the innocent presence of our precious Keiki (children), and the excitement of our dramatic and mesmerizing Fire-Knife Dancers. Please call for pricing and booking date availability. 808 344-2505
We offer full production ensemble shows. We can format shows to fit your event. From vinettes to an hour-long extravaganza featuring our adorable keiki (children) dancers. We have the traditional Polynesian entertainment that will make your special occasion a memorable event.
Polynesian Showcase
Our Polynesian Showcase takes you on a journey of the islands of the Pacific. Featuring music and dances of Hawaii, Tahiti, Samoa, New Zealand, Fiji, and Tonga. Sweet, nostagic, and captivating.
Samoan Fire-Knife
Polynesia's most exciting performance, this dangerous dance will ignite your guests.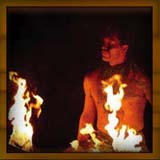 Live Hawaiian Music
Feature our Maui Nani Serenaders at your special event. Allow us to charm you and your guests with the authentic music of old and new Hawaii.