Gold Coast Luxury Wedding & Honeymoon
This package has moved HERE
Our Gold Coast Luxury Wedding package includes everything you want for your intimate beachside wedding all together; spectacular beachfront accommodations for the two of you and up to 22 guests, and a romantic private beach front wedding. Sleeps from 2-24 guests or more in the beautiful luxury beach front property. The package includes 5, 6 or 7 nights stay in from one to four individual units, each featuring 3 bedrooms and centered around a spacious courtyard with pool.
Your wedding takes place directly on the grass or beach fronting the property. Amenities include:
Some highlights of the Maui Ocean Front Villas include:
Four individual units, each featuring 3 bedrooms
Square Feet: 8,000 total
Air Conditioning: Central AC
Internet: High Speed Wireless
Pool Heating: Pool is heated to 82 degrees
Bedroom Configuration: 8K, 4Q (each unit features 2K, 1Q)
HIW Rating: 5 Star Luxury Accommodations
You may also add these options*: (*Some restrictions apply)
Whether you are planning an intimate affair for ten or a gala reception for over 100, we can modify most menus and make your event exactly how you want it to be. Hawaiian Island Weddings remains firmly attached to its founding objectives: exceptional service, attention to details, top-notch luxury oceanfront properties, great food, great music, a welcoming atmosphere. Let us plan your wedding of a lifetime here in enchanting Maui, Hawaii. Your memories of your event will stay in your hearts forever.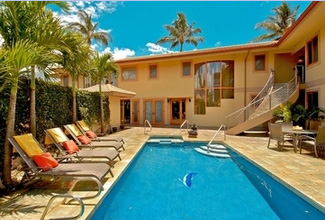 Relax... sit by the pool, sip a mai tai and enjoy the views from these extraordinary luxury beach front Maui villas.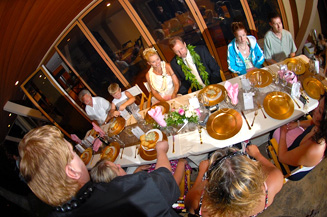 Menus
Photos
Villas
Your beachside wedding and reception are steps away from your villa. You may include everything; from flower archway, to sunset dinner reception and Hawaiian Hula Show.
Option 1 - Villa #1 or #2 (sleeps 6 adults)
Option 2 - Villas #1 & #2 (sleeps 12 adults)
Option 3 - Villas #1, #2, & #3 (sleeps 18 adults)
Option 4 - Villas #1, #2, #3 & #4 (sleeps 24 adults)
For Wedding & Accommodations
< Previous wedding Next wedding >
---