Entertainment
Purchase CD´s From Our Musicians
Hawaii has a variety of talented entertainers just waiting to make your wedding day special.
Ron Kuala´au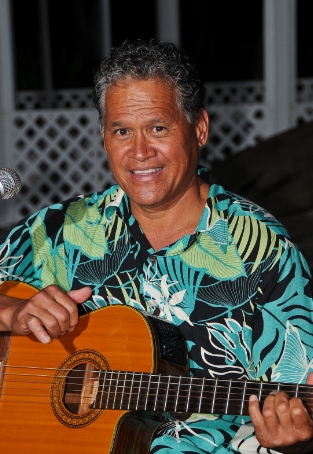 Ron Kuala´au
Ron Kuala´au is one of our favorite Hawaiian singer guitarist, He formally played in the internationally renowned group Hapa. Ron has a fantastic stage presence and a large selection of Hawaiian and traditional love songs. He is available for your wedding throughout Maui and is popular for our wedding receptions..
Wedding Song List
Purchase CD

Tim O´Hara
Tim O´Hara is more than just a singer and guitarist, he is also an arranger, bandleader, vocalist, pianist and organist. He has been performing professionally for 34 years and is well known for his extensive repertoire. If you have a special song which is not on his song list, Tim will be happy to learn it for you for a nominal charge. Tim will also blow the ceremonial Hawaiian conch shell for you at you wedding for no additional charge.
Wedding Song List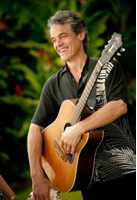 Tim O´Hara

Eric Dotterer
Rev. Eric Dotterer is one of our favorite musicians on Maui, he is also a minister. He specializes in Hawaiian style, Contemporary, Popular, Love Songs and Ballads. Eric has an extensive song list and can play almost any song you can think of.
Wedding Song List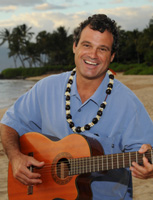 Eric Dotterer

Evan Shulman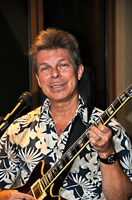 Evan Shulman
Evan Shulman is an all around performer. His extensive song list, unique vocal range and professionalism make him one of the most sought after musicians in Maui. Evan will perform for your West Maui location wedding.
Wedding Song List
Purchase CD

Tarvin Makia
Tarvin Makia is another of our favorite Hawaiian singer/guitarist. He is also the bass player for the popular band Hapa, and tours with them during some months. His mild manner and large repertoire of Hawaiian music make him a natural for the couple who is interested in authentic Hawaiian music for their wedding ceremony. Tarvin is often the musician that performs at many of our wedding receptions aswell.
Wedding Song List
Purchase CD

See Video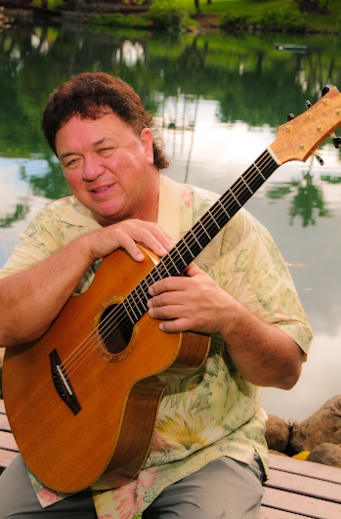 Tarvin Makia

Derek Bal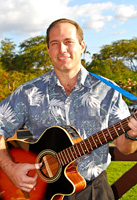 Derek Bal
Derek Bal is one of our newest musicians. Derek has an extensive song list, unique vocal ability and is excited about making your wedding one to be remembered. Born and raised on Maui and being part-Hawaiian, Derek also has a variety of Hawaiian love songs that he can perform at your wedding.
Wedding Song List

Hale Villarimo
Hale Villarimo was born and raised on Maui. His family ancestry can be traced some 800 years. He has been a working musician for over 15 years here on Maui. Hale ownes and operates one of Hawaii´s largest recording studios. He provides Hawaiian music for the hotels, weddings and parties. He also teachs weekly music classes to adults at my studio. He loves performing at weddings and receptions, and hopes to help your Maui wedding dreams become a reality.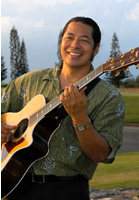 Hale Villarimo

Alfie Wolf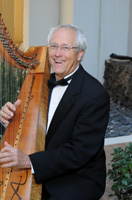 Alfie Wolf
Alfie has been one of our most sought after harpist for years. His extensive song list, and professional appearance bring class to any wedding ceremony. Alfie also plays chello, flute to play that special song for you, so give him a try.
Wedding Song List

Joey & Kawika Dang
Joey & Kawika Dang are your one-stop Polynesian duo. they offer affordable Hawaiian, Tahitian and Samoan Entertainment. They also offer Hula and Tahitian workshops for brides or their bridal party. Make your wedding day extra special by adding Authentic artificial Hawaiian adornments to your hair. If you need assistance with anything Polynesian Joey & Kawika are here for you.

Scott Baird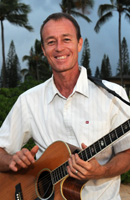 Scott Baird
Scott Baird is one of our favorite musicians. Scott has been the band leader of the local band " Crazy Fingers" since 1998. Scott has written and preformed six top hits here in Hawaii. Scott will perform solo or with his six piece band who have worked with artists like Jimmy Buffet, Willie Nelson and Black Eyed Peas. Scott´s easy listening voice and mastery of the guitar make him a good choice for couples who want more than just the standard love songs.
Wedding Song List

Louise Alborano
Louise Alborano has been sharing her awesome musical talents and voice with the people of Hawaii for decades. Many people have come back year after year to hear her wherever she is performing. She has a love of not only her music but the culture that she was born into. Not only can she perform a variety of Hawaiian melodies, she knows all the love songs, classics, popular and rock n roll favorites we grew up with. Louise is available to play at your ceremony and/or your reception.
Wedding Song List

Judy Waters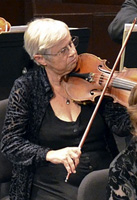 Judy Waters
Judy is our most sought after violinists. Judy began a lifetime of violin playing at the age of seven. She had wonderful opportunities to play with conductors from the N.Y. Philharmonic as well as renowned soloists. Now retired from her day job as child development specialist, and no longer engaged with extended elder care, Judy is ready to return to playing and teaching violin, and would love to play more wedding ceremonies.
Wedding Song List

Bobbie Jo Curley
Bobbie Jo has been a musician from a very early age and has performed and taught private Voice, Piano, and Harp lessons for over 25 years. Now relocated in Maui, she will bring an inspiration to your event that you never dreamed possible. Bobbie Jo has played at many loactions throughout Maui. Her astounding musicianship will complement and enhance your most special day. Her repertoire is very extensive, from Classical to Blues, and she will learn anything for you that she doesn´t know.
Wedding Song List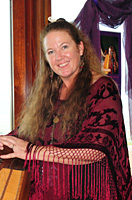 Bobbie Jo Curley

Cambria Moss
Cambria Moss' violin will add the romance and mugic of music, in whatever style you choose, to make your wedding, reception or dinner party special and memorable. Whether you are planning an intimate beach or garden wedding, a celebration at a private estate or a religious ceremony in one of Maui's chapels, her greatest joy is to play music in the celebration of love and life.
Wedding Song List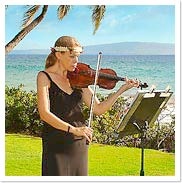 Cambria Moss

Wilmont Kahaialii Jr.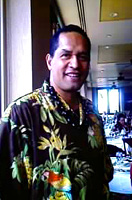 Wilmont Kahaialii Jr.
Wilmont Kahaialii Jr, is the quintessential Hawaiian Musician. He is an accomplished singer/guitarist. Besides knowing all the regular love songs and Hawaiian favorites, Wilmont can make your wedding unique by performing a Hawaiian Chant or Ol´e. Wilmont´s mild manner and true Aloha Spirit make him one of our favorite Hawaiian Musicians.

Angie Delight Carr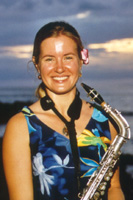 Angie Delight Carr
Angie Delight Carr has a Masters Degree in Music from Western Michigan University. Angie Carr has played professionally for over 11 years and has performed at Carnegie Hall and the Grand Hotel in Michigan, to name a few. Angie plays keyboards and saxophone, and has a beautiful voice. She enjoys perfroming classical music as well as contemporary love songs with vocals or instrumentally. Angie definitely will add a special touch of Aloha to your wedding ceremony.
Purchase CD

Ginny Morgan
Ginny Morgan is our most popular harpist. Ginny has a Bachelor of Music Degree from Chapman University School of Music and has performed with professional orchestras for 47 years. She plays both harp and cello, either solo or in ensembles. She has performed for weddings on Maui since 1991 and has also performed in many stage orchestras. She can arrange your contemporary song for harp or cello and has a wide variety of both classical and popular songs to choose from. She also plays Jewish wedding songs, Christian hymns and has an extensive repertoire of Celtic pieces.
Wedding Song List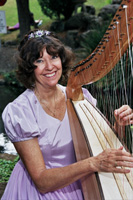 Ginny Morgan

Celia Canty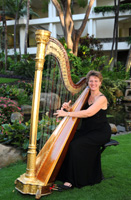 Celia Canty
Celia Canty is one of Maui´s premier symphonic harpists. She plays her large gold symphonic harp at exclusive venues throughout Maui and the neighboring islands. She is one of the most requested musicians and frequently performs at the major resorts as well as in private homes, clubs, spectacular beach settings, and even sailboats. Celia has been playing professionally for weddings and special events since 1990. Celia has a large repertoire of songs to choose from.

Barry Fried
Barry Fried has attended New York University and has a degree from Wesleyan University, studied flute at Julliard School of Music, has played with the New York Philharmonic. Barry has a Hawaiian repertoire as never heard before on solo flute. His repertoire includes the finest traditional, classical, contemporary and spiritual standards as well as Jewish musical selections.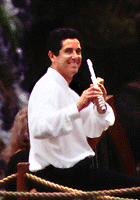 Barry Fried

Hula Dancers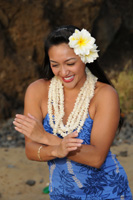 Hula Dancers
We also offer other Hawaiian entertainers for your wedding ceremony. Consider a Hawaiian Hula Dancer who will interprets Hawaiian Music with the ancient art of the Hula Dance. Your Hula dancer will perform two dances during your ceremony. A musician who will perform Hawaiian music is required to have a Hula dancer. You may add one or more Hula dancers to perform during your ceremony.

Conch Shell Blower
Another popular Hawaiian tradition is the blowing of the Conch shell, or pu. In ancient times, the pu was sometimes used to accompany chants, and most often used to announce the beginning of a ceremony and also have been used to honor royalty and famous people. At your wedding, the conch shell is blown in three directions to summon the Gods and begin the ceremony. the next time you´re waiting for a ceremony or luau to begin, just listen for the call.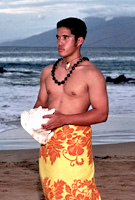 Conch Shell Blower

Kahili Bearers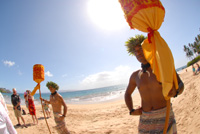 Kahili Bearers
We also offer other Hawaiian entertainers for your wedding ceremony. Consider a Hawaiian Kahili Bearers. A wedding in ancient Hawaii was always full of great fanfare. Royal Kahilis (handmade feather standards, a symbol of Hawaiian royalty) were carried in a procession with the bride and groom. You may have just one Kahili bearer, or two. Consider adding the conch shell blower for a truly ancient Hawaiian touch.
---
See wedding packages on these islands
Maui Weddings
Oahu Weddings
Kauai Weddings
Hawaii Weddings
"The Ultimate Hawaiian Wedding Company"
---