Sarento´s Restaurant - South Maui
Sarento´s is located on one of Maui´s premier beaches overlooking the islands of Kaho´olawe, Molokini and Lanai. Sarento´s Restaurant provids guests with unsurpassed romantic ocean views. You are filled with an atmosphere of Italian style warmth and hospitality that makes this fine dining establishment one of Hawaii´s most celebrated. With excellent service and the outstanding culinary delights, Sarento´s is a place where fond memories are created. A beautiful private indoor dining room is available for parties up to 18, and the oceanfront Lanai patio is available for seating up to 50. Planned Parties and Private Events Director of Sales and Marketing Patricia Blackburn Telephone: (808) 879-4171.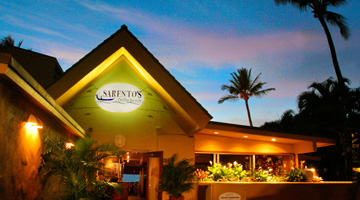 Sarento´s is located on one of Maui´s most beautiful beaches in South Maui.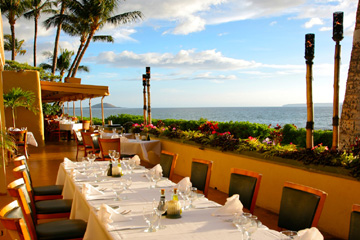 The beautiful oceanfront lanai is available for parties from 12 to 50. Truly a Hawaiian style experience.